Hardscape Installation, Restoration and Repair in San Diego
Paver, Concrete, Tile, Stones all Hardscape Services
Concrete, paver and all types of Hardscape Contractor
Installation, Restoration, Remodeling, Resurface and Repairs, specialize in concrete staining, hardscape sealing, Acid-wash
Call us for free estimate We can Help!
HARDSCAPE RESTORATION
With us, you'll find the highest quality of outdoor remodeling concrete and pavers restoration services from acid wash, concrete staining, concrete and pavers cleaning and sealing, repair, sealer removal and grinding restoration services throughout San Diego for all type of outdoor surfaces. We specialize in patio, deck, driveway, walkway, backyard, front yard, flooring, and walls, outdoor kitchen, fire pits, fire place, turf, retainer walls and pergola. We provide the best residential and commercial hardscape restoration services. If you are looking for the best hardscape restoration, remodeling and concrete contractor in San Diego, you've come to the right place!
INSTALLATION
We provide the best hardscape installation and restoration services in San Diego. If you look for "hardscape restoration or remodeling contractors near me" on your favorite search engine, you will find us! We specialize in all type of hardscape surfaces such as concrete, pavers, flagstone, tiles, stamped, marble and exposed aggregate.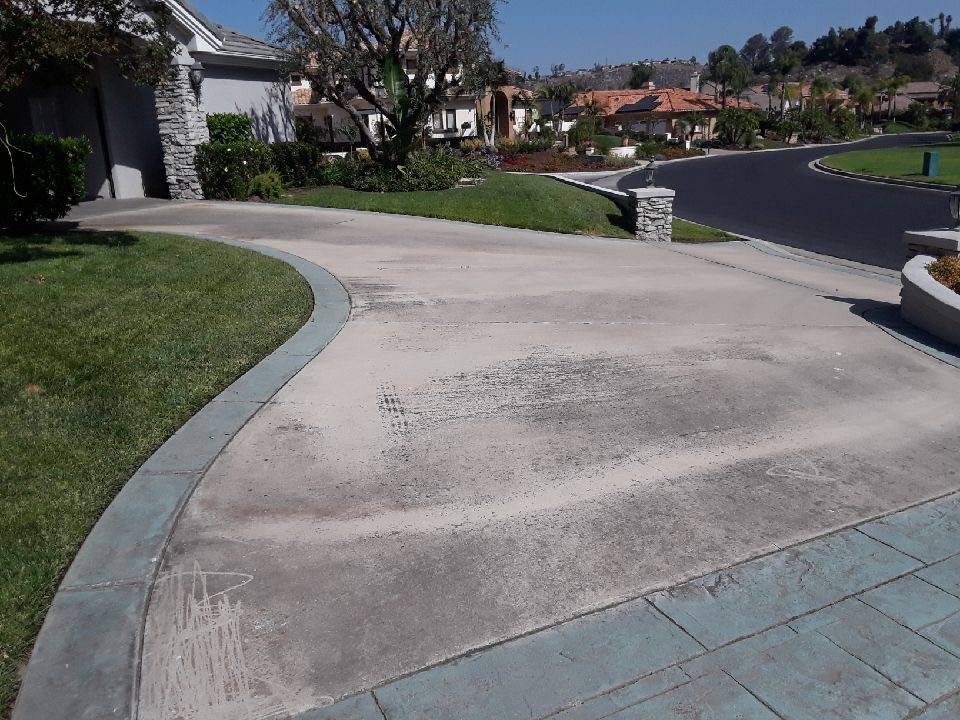 Concrete Acid wash
Introducing our cutting-edge Acid Wash Service, designed to rejuvenate and revitalize your surfaces like never before. Say goodbye to stubborn stains, discoloration, and grime with the power of acid cleaning. Whether it's your driveway, pool deck, or patio, our expert technicians employ a safe and effective acid wash technique that penetrates deep into the pores of concrete, removing unsightly blemishes and restoring the original beauty of your surfaces. Our environmentally friendly approach ensures minimal impact while delivering exceptional results. Trust us to transform your spaces, making them look brand new and ready to impress. Experience the transformative power of our Acid Wash Service and elevate the aesthetic appeal of your property today.
Concrete staining
Discover the artistry of concrete with our Concrete Staining Service, a premium offering designed to elevate the aesthetics of your spaces. Whether you're looking to add a touch of elegance to your home or redefine the ambiance of your commercial property, our skilled team specializes in transforming plain concrete surfaces into works of art. Our staining process offers an array of color options and finishes, allowing you to achieve the exact look you desire, whether it's a sleek and modern appearance or a rustic, earthy feel. With an eco-friendly approach and a commitment to quality, we provide lasting beauty and durability that will enhance the appeal of your concrete floors, countertops, or outdoor areas. Experience the limitless possibilities of concrete staining and unlock the full potential of your space today.
call us for free Estimates
WHAT WE DO
Hardscape Installation,Remodeling, Restoration
San Diego Services
Remodel your outdoor
Your outdoor space is more than just an extension of your home; it's a canvas waiting to be transformed into a functional and aesthetically pleasing area that complements your lifestyle. Hardscape remodeling is a remarkable way to achieve this transformation, offering endless possibilities to create a stunning and inviting environment that suits your needs and desires.
Ideas for Hardscape Restoration and Remodeling:
Patio Paradise: Transform a plain backyard into an outdoor retreat by creating a beautifully designed patio. Choose from pavers, concrete, or natural stone to suit your style. Add cozy seating, a fire pit, and decorative lighting to complete the ambiance.
Enchanting Walkways: Craft enchanting paths that wind through your garden, guiding visitors on a scenic journey. Use paver, flagstone, or brick to create a charming walkway that complements the surrounding greenery.
Retaining Walls: Add depth and dimension to your yard with retaining walls. Not only do they help manage soil erosion, but they can also serve as decorative focal points. Incorporate plants and lighting for an eye-catching effect.
Water Features: Incorporate the soothing sound of water with a stunning water feature. Whether it's a cascading waterfall, a serene pond, or a contemporary fountain, water elements can add a sense of tranquility to your outdoor space.
Outdoor Kitchen and Dining: Elevate your outdoor entertainment game with a fully equipped kitchen and dining area. Install a grill, countertop, and seating to transition from indoor to outdoor dining seamlessly.
Conclusion:
Hardscape restoration and remodeling is a transformative journey that allows you to create an outdoor oasis that aligns with your vision. From enhancing aesthetics to increasing functionality, hardscaping empowers you to craft a space that reflects your style while offering endless enjoyment. So, roll up your sleeves and embark on this exciting venture to turn your outdoor dreams into reality.
Our services include renewing driveways, entryways, courtyards, pool decks, BBQs, fire-pits, outdoor kitchen and common areas. We offer pavers and concrete repair and replacement, restoration, and much more.
concrete pool deck restoration
California Concrete Clean and Seal specializes in residential restoration which includes concrete installation, concrete overlay and resurfacing, staining, grinding cleaning and sealing and more. Our services provides throughout San Diego for all types of hardscape surfaces. Our concrete contractors team in San Diego can remodel, install or restore driveway, patio, deck, path way and entrance. We also specialize in Paver cleaning and sealing , Flagstone grout repair and sealing, Tile renewing, Marble polish, natural stone maintenance, Mexican tile cleaning and sealing and so much more.
We can Create your Outdoor Oasis – Your Vision, Our Expertise!!!: patio, pool deck, driveway, walkway, backyard, front yard, BBQ Island, fire-pit, outdoor kitchen, artificial turf, flooring, walls, pergola and more…
California Concrete Clean and Seal's teams have more than fifteen years of experience in the hardscape Installation, remodeling, and restoration. We expert in concrete and pavers trade with hundreds of projects under our belts and many satisfied homeowners.
Benefits of Hardscape restoration:
Increased Aesthetic Appeal: By incorporating various hardscape features, you can elevate the visual appeal of your outdoor space. Whether you opt for a stylish stone patio, a decorative retaining wall, or an intricate mosaic walkway, hardscaping adds a touch of elegance and sophistication.
Enhanced Functionality: Hardscape restoration allows you to design your outdoor area to be more functional and versatile. Create defined areas for dining, lounging, and entertaining, or install or restore pathways that guide visitors through your garden oasis.
Low Maintenance: Unlike plants and grass, hardscape elements require minimal upkeep. This can reduce the time and effort needed to maintain your outdoor space, giving you more opportunity to enjoy it.
Year-Round Enjoyment: Hardscaping extends the usability of your outdoor area beyond the warm months. With features like fire pits, outdoor kitchens, and covered patios, you can comfortably use your space throughout the year.
Increased Property Value: A well-designed hardscape can significantly increase the value of your property. Potential buyers are often attracted to homes with thoughtfully designed outdoor areas that offer both beauty and functionality.
Explore Recent Work
All work on projects are completed by our own professionally trained employees. Our goal is to always pay attention to details and provide skilled and premium services using the best materials available in the restoration market.
walkway Stamped concrete Installation
calcleanseal
2023-08-29T20:26:26+00:00
Concrete slab Installation
calcleanseal
2023-08-24T23:11:21+00:00
What our clients are saying about us
"California Clean & Seal have been excellent to work with. They've been responsive, professional and are obviously skilled at what they do…"
"California Clean and Seal did a fabulous job on our pool. They did exactly what they promised. We would refer them to anyone who asks."
"I am happy with the quality of service provided, including the crew showing up when scheduled and Mike's availability to answer my questions…"
The Latest from Our Blog
Hardscape, Restoration and More
Your concrete patio needs to survive both rain and shine, as well as handle every guest who might walk atop it. San Diego has a very dynamic climate, though, so if you want robust results,
Get A Free Estimate
We provide hassle-free estimates to all of our potential clients. Contact us today to set up your in-home consultation.