Professional EPOXY Coating installation – We Can Help!
EPOXY COATING INSTALLATION SAN DIEGO
Epoxy Coating floor installation for residential
Our services for garage makeover start with our epoxy coating system installation. Our installation experts specialize in turning old, dirty, or cracked concrete into a beautiful flooring surface that will make your garage attractive.
Our unique coating system technology has adhesion quality than standard industrial-grade epoxy coatings. Our preparation process goes deep into the concrete floor to provide the foundation for long-lasting flooring. Our epoxy coating system won't peel from the concrete floor for years. The epoxy coating system we are using is designed to maintain the concrete floors for their lifespan. The proprietary Epoxy coating technology provides adhesion to concrete floors so it can be preserved. The use of a low solvent formula helps pentrate deep into the concrete floor and base for a bond that won't peel. Our Epoxy Coating flooring system installation application process is a fast and efficient and the result are beneficial for years to come.
Before the epoxy coating system is applied to the concrete our clients will choose one from our many epoxy system. Later our team of experts will use the decorative media of your choice to apply to the epoxy, providing a seamless multi-color appearance to the entire garage floor. The final step is to apply the flooring to a high Solids clear topcoat that will give a smooth mirror-like gloss to your new floor—our Epoxy floor coating is designed to be strong and resilient and to protect the underlying epoxy flooring. Extremely abrasion resistant, it creates a mirror-like glossy finish, but it is also available in a matte finish. The Epoxy coating dries fast, allowing you to return items to your garage within a few hours.
Our Epoxy floor coating has low-odor options that leave more product on the floor and less solvent smell in the air. There are various textures and colors for you to choose from that will transform your old flooring. If you are looking for Epoxy flooring coating installation services in San Diego, give us a call today! You can also contact us online.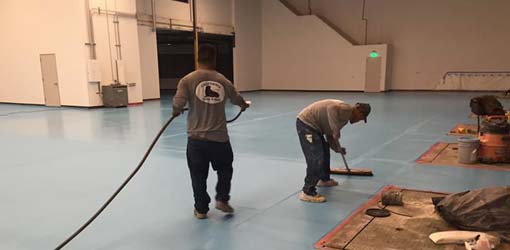 COMMERCIAL EPOXY INSTALLATION SAN DIEGO
Epoxy Coating floor Installation for commercial
Stained and decorative concrete uses a special California Clean and Seal Commercial epoxy floor installation services to understand that Protecting coatings are essential for the floors of virtually any commercial or industrial environment. Some are because of the health and safety regulations that might require you to have a specific type of protective coating on your flooring. A common seen in many industries, such as the healthcare industry, the hotel industry, the veterinary industry, etc.
California Clean and Seal team exports of flooring coating have the most qualified epoxy flooring exports in San Diego areas. Whether you need an protective coating for your facility, we can have it installed quickly and professionally. We have provided epoxy flooring to companies of several different industries over the years, such as retail, office buildings, manufacturing, food & beverage, automotive, and many more.
In any commercial or industrial environment with people regularly walking and working on flooring, you're going to want to keep that flooring protected with an epoxy coating. The great thing about epoxy is that it is durable, attractive, vibrant, and does not require a lot of maintenance work.
The size and scope of your business do not matter either. California Clean and Seal can apply an epoxy coating to floors of any size. You could have a small 500 square-foot shop or a 100,000 square-foot warehouse, and we'd still be able to protect your flooring in either scenario. That is why many new small business owners love to come to us. Our Epoxy Floors installation team can help you explore many possibilities to combine designs, functionality, and beauty to suit your preferences and styles.
California Clean and Seal has been providing professional and expert epoxy flooring installation for many years. We understand your need to work with highly-skilled and experienced epoxy flooring installers. We work efficiently within a time deadline and provide great results.
Epoxy Paint Chips Marble Styles
CLASSIC SERIES: Marble Styles
OLD WORLD SERIES: TRANSPARENT
BRIGHT LIGHTS SERIES: HIGH CHROMA
Disclaimer: California Concrete Clean and Seal restoration services products are subject to changes according to market supply and demand, California Concrete Clean and Seal reserves the right to change concrete staining manufacturing. Products use is expected 24 hours of drying time after completion of application. California Concrete Clean and Seal is not warranty of merchantability concerning this material. Homeowner acknowledges that the actual color staining will not match the above chart, a sample of color provided by California Concrete Clean and Seal prior to application to client approval, the concrete unified color subject to concrete profile and color variation may exist on the surface. Warranty is subject to manufacturing sole warranty.
Get A Free Estimate
We provide hassle-free estimates to all of our potential clients. Contact us today to set up your in-home consultation.